Logo – TradOnline sheds its skin!
Par Alice Judéaux | 9 March 2016

Our current logo has been with us since 2010 and we got bored with it… just kidding! However, we did find that it didn't seem to represent TradOnline anymore. This year we decided to change it, so while we're at it, here's a short recap of how our branding has evolved over the years.
Before 2010: the DIY TradOnline logo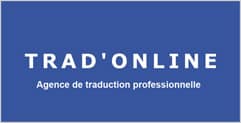 Before 2010, the TradOnline logo was minimalist. Designed in-house by the three TradOnline partners, the aim was not to impress, but rather not to spend on design from the get-go, right after investing in creating the company.
Quite quickly, TradOnline was able to hire a graphic artist for an eye-catching logo.
2010: Standing out in the crowd

Every company needs an identity, especially when it is growing- that was the reason behind creating our first branded logo five years ago. We wanted it to be aesthetically pleasing, and make us stand out in the crowd of smaller translation agencies. A growing turnover, new recruits, our own back-office built from the ground up…
While this incarnation of the TradOnline logo had a certain playfulness about it, it was carefully crafted and you could immediately tell the difference between a growing company's attention to graphic detail, as opposed to a smaller one just starting out in the translation world.
2016: The need to reassure

The company has evolved during those five years.
Since 2010, our turnover has gone from € 400,000 to € 1,6 million – four times greater in five years.
Our clientele is more diverse: from smaller companies or start-ups to multinational corporations in a wide range of fields, such as new tech, music, medical, fashion, consulting, and many more.
The new TradOnline logo needed to reflect these changes, as the previous one started to look unappealing, with its pastel blue and faded greys.
Besides, our Spanish and UK teams needed a more clear representation of TradOnline as translation agency. Trad brings to mind "traduction" to a French person, but what about the English speakers? As changing our name wasn't an option, because we didn't want to lose our reputation in the translation game, the compromise was to add the words "translation agency" to our new logo.
Tell us what you think in the comments!