Translators, are you made for coworking spaces?
Par Shane Hartford | 10 April 2018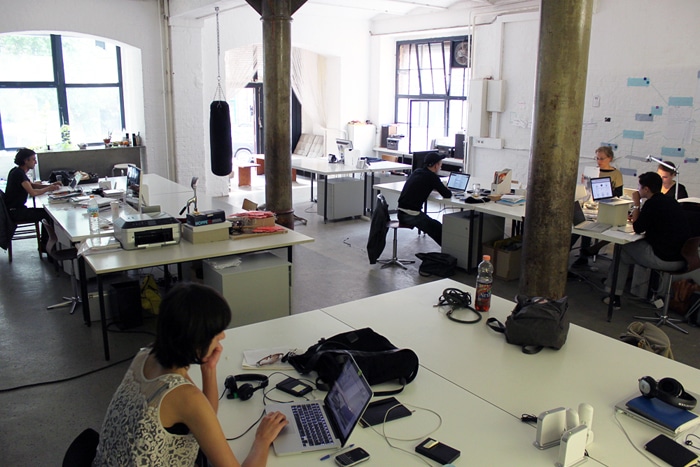 If you're a translator looking for an office so you no longer need to work from home, and you're interested in a coworking space, we have a bit of information that may help you make a decision.
Over the last few years, the number of coworking spaces has significantly grown in France. Of course, a large majority of these spaces are located in and around Paris, but all of the large and dynamic cities now have their own coworking spaces.
But what's the point of these workspaces?
Solitude: a real nuisance for independent workers
Coworking spaces are an ideal place for any independent worker looking to break the isolation that comes with working from home. One of the most difficult aspects to master when working for yourself is organizing your schedule to allow time for both your work and personal life.
How does coworking allow you to break that independent-worker isolation? By allowing you to work in an open space with a number of other services on hand, including a cafeteria, relaxation area, conference rooms, happy hours, game rooms, etc.
Note that not all coworking areas offer the same services! It's important to learn about what kind of people work in the coworking space that you're interested in, as well as the services, amenities, and the workplace atmosphere.
Speaking from experience, some coworking locations are simply stopovers for professionals looking for a closed office space long enough for a business meeting. If you're looking for a coworking space to break free from your solitude, this type of location is probably not for you.
A myriad of benefits: cost, atmosphere, networking, etc.
One of the advantages of shared office space is its low cost. If you've already looked into the cost of renting an office, you'll have certainly already noticed the difference. A coworking space will cost on average €30 per day, drinks included!
And, if you're a freelancer, you are, without a doubt, also interested in networking. Your coworking space can help you there, given the diversity of independent workers you'll find. And this network can possibly bring you new clients, and this can be more than a negligible benefit!
Moreover, your new "colleagues" undoubtedly have certain skills that are complementary to your own, and you will earn a bit of experience thanks to this coworking synergy. Take this small, though annoying, example: you have a computer problem that prevents you from working for half a day. You spend all your time looking for a solution on forums without any success. In a coworking space, there's almost always a friendly geek who may be able to lend a helping hand.
Generally speaking, there is a real positive energy in most coworking spaces. For some, it translates into more creativity and for others into stronger motivation.
Some potential inconveniences
Beware of the noise. That creative energy can sometimes turn into noise pollution, and it's up to each person to judge their personal tolerance level. While some people are capable of working in a dynamic environment, this isn't the case for everyone.
On the contrary, if you are comfortable working in a noisy environment, don't forget that everyone is there to work. As much as possible, try to make sure you don't disturb other workers. The atmosphere is relaxed but studious.
Also, inform yourself about the policy on phone calls in the common area. If it is prohibited, what is the solution? If you're required to leave the coworking area to make a phone call, does this fit with your way of working?
Similarly, you need to ask about the "confidentiality" of information you exchange with your clients by telephone. If you're working in a job with confidentiality concerns, you probably cannot work in a coworking space. If you're not a lawyer or army subcontractor, all's good!
As for your scheduling, how much time do you plan on spending in this coworking space? If you're planning on being there every day, it's perhaps better to opt for a place where you can store your affairs rather than transporting your laptop every day of the year. Your back will thank you. Be aware that not every coworking space offers this type of solution.
A Skype mee
ting with a big client? Is there a way to rent a meeting room at an hourly rate in your coworking space? If such a situation never occurs for you, all that much the better, but it's better to be prepared upstream than to find yourself with some unhappy surprises.
Still not sure?
You asked yourself all of the questions above and you're still not sure? The best solution is to ask for a trial day. Whether it's paid or free, it will allow you to judge the atmosphere for yourself.
Have you had any interesting experiences in a coworking space? Let us know! We look forward to any anecdotes.