Interview with Georgie, one of our loyal Brittish translators
Par Shane Hartford | 8 June 2020
Hi Georgie. Can you tell us a bit about your professional activity?
I am a freelance translator, translating from French and Spanish into English.
What studies did you complete? Why did you choose to learn French?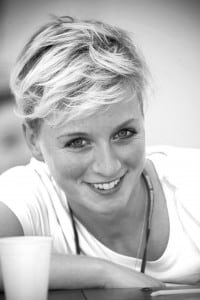 At the school I went to, everyone began learning French at around 8. One of the first words we were taught was actually "pain au chocolat". Of course, living in Aquitaine I've had to revise that first lesson a little… In any case, I loved learning songs like Sur le Pont d'Avignon, and languages, English and English Literature were always my favourite and strongest subjects.
When it came to choosing a subject to study at university, I was really interested in Politics, Philosophy and English but couldn't bear the thought of giving up languages and so ended up studying International Business and Languages at Heriot Watt University. When I began the IBL course I discovered that Heriot Watt was one of the leading universities for interpreting and translation and so decided to switch courses! That also meant I could keep studying both languages and gave me the opportunity to spend 6 months in Spain and 6 months in France, putting everything I had learnt into action…
How did you come to the idea of being an independent translator?
In my first year of university I was really lucky to get a part-time job at the Scotch Whisky Experience, completely by chance. It's one of Edinburgh's top tourist destinations, just next to the Castle and attracts visitors from all over the world, so I regularly gave tours in French and Spanish. Then I began giving tastings in the evenings in French and Spanish and taking part in colleagues' tastings, essentially acting as a liaison interpreter. When friends and friends of colleagues started sending me translation work and asking me to accompany them on business trips and to trade shows abroad, I quickly understood I could really make a career out of translation. So I found out how to set up as a freelancer, printed business cards and made sure to spread the word. In the first 5 years I worked exclusively for direct clients, as I was still studying and working in the whisky and wine trade and wouldn't have been able to offer agencies the availability and response times they needed.
Who are your clients (activity sectors)?
I developed a real passion for whisky at the Scotch Whisky Heritage Centre – quickly learning to favour quality over quantity – and decided to make food and drink the second pillar in my career, going on to give private tastings and working at various vineyards in France and Spain, the Scotch Whisky Society in Edinburgh and Whyte & Mackay in London, and even a goat farm in Belgium, where I learnt how to make organic goat's chees, so my main clients are in the food and drink business.
Additionally, having studied business and management, and finance and economics as electives at Heriot Watt, I work a lot on internal communications, reports and marketing materials for clients in a wide range of industries and fields, from aeronautics to zenitude.
When I'm not working, I am either out practicing a sport (badly) or trying to read a book or magazine at the same time as watching a film or documentary, so I'm delighted to also get to work on projects related to my other interests like board sports, art, architecture, short films, documentaries, and tourism.
What does the translation process look like for you?
The most important thing is to have a really good look at the project before accepting it to check I can complete it to a high standard.
Once I have accepted the project, I have another full read-through, noting down any terminology or concepts I would like to look into further. Then I will have a look at other English material previously produced by the client and similar clients, read up on the rest of the client's native material to get a feel for their voice, and begin looking at the terminology and concepts in both languages.
I then produce a first fairly rough draft of the translation. During that first draft, as I translate I am also thinking about the tricky areas I have encountered and possible approaches for dealing with them, and how to relay the client's voice and message as accurately as possible.
I then produce a second draft that is generally of a publishable standard. I like to leave that version for as long as possible before returning to it with a fresh eye, polishing and upgrading the text and checking nothing has been mistranslated.
I will then proofread the text, checking for any typos or mistakes, at least 2 or 3 times.
Finally, just before sending the text to the client I will have a final read-through to make sure I am happy with it, proofreading the full text once again if I make any changes.
Do the cultural differences between France and Brittain make it more difficult to translate?
Absolutely! French and English appear to be very similar but we really have very different ways of expressing ourselves and quite different customs and practices. Even the way we write emails is different; in French, for example, starting an email with "Bonjour" is completely normal, but starting an email in English with just "Hello" and no name sets a very relaxed and familiar tone.
I also think French humour is a little naughtier. I have seen quite a few rude jokes in clients' content that simply wouldn't go down well with the British "stiff upper lip".
Have you noticed a change in the kinds of projects sent to you from your clients?
Clients seem to be translating increasingly large volumes. Rather than just translating a particular email or press release, they seem to be looking at localizing their entire system, from their websites, to their HR processes and everything in between. They also seem to have a much sharper understanding of what translation involves. It is far more frequent now for the end client to understand that transferring the meaning, intention and cultural references in a text is not as simple as just recopying words verbatim.
It is increasingly common for clients to anticipate sticking points in terminology, to provide reference documents, understand how cat tools work and even have their own translation managers and tools.
What difficulties do you face in your job, but also, what do you appreciate the most?
It can be quite difficult to work on your own all day. It's a conundrum I know a lot of translators face: we need a quiet environment to really focus on our work without any distractions and stay in the flow, but we also tend to be curious people that enjoy interacting! I prefer being able to work in the silence and organized chaos of my own office than in a co-working space, but I do make sure to speak to people throughout the day, to go out for coffee with friends, and occasionally work in cafés, with colleagues or even in the lounge area of the climbing gym.
That said, we are only physically isolated and one of my favourite parts of the job is getting to know project managers and clients, understanding how they work and their different approaches and industries. I really enjoy seeing the way businesses are evolving, both through the material we are working on and through my own research. It's nice to be part of what feels like a very large, very varied and very unconventional team.
Do you think that translation is a career path with a bright future?
Definitely. More and more content is being produced for international audiences every day. Also, the more accessible entry-level translation becomes, the more important it is for companies further up the chain to up the standard of their international content in order to stand out and develop. Whilst some perceive the market to be saturated, I can't imagine the rate of new translators entering the market ever out-pacing the rate of new content being produced.
Many people also hesitate because of the perceived threat of machine translation, but I think that's somewhat of a pipe dream. There is something personal in the written word and that is important in all areas of the industry, from internal HR communications to tasting notes, and even financial reports and user manuals. We need that human contact. And when it comes to marketing, there is such a small window of opportunity to capture your audience's attention, it's vital that content is really, really on-point and natural. Translation is all about context and it will be quite a feat for a machine to rival a human's ability to store and interpret context.
What advice would you give to someone who is interested in a career in translation?
Find out everything you can about the many different roles and opportunities out there, set yourself tasks and scenarios, try them out and see how you feel about them in practice. Speak to people with knowledge of the industry, go to trade shows, speak to everyone you know about their jobs – particularly those working outside of translation, listen to them and think about how that could relate to the position you are interested in. And don't be afraid to be completely honest about where you are in your career and your current skills and expertise, and to ask any questions you might have. Clear communication is literally what our job is all about.
Anything you want to add?
Thanks for asking me to talk to you about the life of a freelancer! Here's to many more successful years working together!