A well-established, highly- motivated team
Our company has grown at a steady rate over several years. This has allowed us to give time and effort to each new team member to ensure that they settle in well. Today, TradOnline fields a highly-motivated and well-established team.
An open environment
At TradOnline, our employees often want to express their ideas and thoughts. An open environment where ideas can be exchanged freely has always been encouraged, and if the company has been able to flourish as it has, it is largely thanks to this culture. The employees not based at the main office in Laval (who work from Lyon, Paris andGranada) visit regularly, so that they can work with the rest of the team together, face to face. Of course, at all other times they are in constant contact with each other (video conferencing, telephone, instant messaging, etc.), but nothing can replace being together in the same office.
A wide range of interests and skills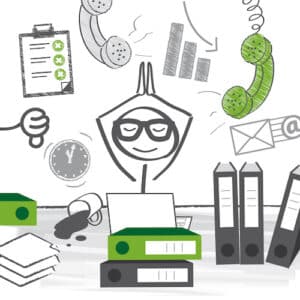 The TradOnline team is primarily feminine. Apart from Vincent and Mathieu, two of our partners and our new translator, Callum, we are all girls!l.
We have all types of personalities in our offices, ranging from the sociable extrovert to the perfectionist, web-loving "geek", with the understanding manager and level-headed project manager in between. We have all the bases covered. We have decided to write short descriptions about each other.
Find out what we have to say here. We hope you'll like this and that it will tell you a little more about our team before meeting them "IRL".
Always there for you
Ready to listen and factor in your needs


Creative
an ability to find tailor-made solutions for all situations

United
a team spirit working with and for our clients
Looking for more information?
Questions about your translation project? Feel free to reach out to our Project Managers!